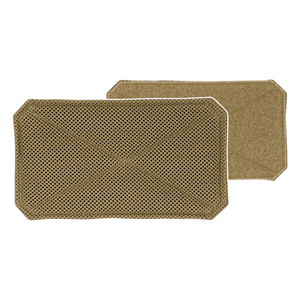 A lot of chest rigs on the market come with a simple piece of Velcro® Loop to cover up their inner Velcro® Hook lining and that isn't very comfortable. That's where our Spacer Mesh Pad comes in. Originally designed for our own ARC Chest Rig Kit, we've decided to offer these up for other rigs on the market. These will fit any placard / chest rig with a 9" x 5" Hook field on their inner side.

Features:

-Mil-Spec Spacer Mesh for comfort and breathability

-Rounded Corners for comfort

-9" x 5" Loop side for attaching to Velcro® Hook
If you are ordering for a Unit, please contact sales@shaw-concepts.com


Proudly made in the USA / Berry Compliant

*Gear and other accessories not included*
Exquisite 🔥
The padding is a blessing of the gods! All equipment is "similar" to other brands of course, same goes for all the brands, BUT….
You can 100% tell the difference with quality when it comes to Shaw Concepts. A massive upgrade! I got all my fellow brothers buying their product as well, and they too LOVE it! Expect nothing less from a Reconnaissance Marine. Semper Fi homie.
Just what I needed
Recently got a new chest rig system and this was the finishing touch that made it perfect!